About Us
Griffon Prep was founded in 2005 by two test-prep industry veterans. The company is dedicated to quality test-prep, small classes, and highly qualified instruction.
What is Quality?
The Instructors
Griffon Prep instructors are all required to score exceptionally high on an actual, officially administered GRE, GMAT, or LSAT exam and to submit proof of this score. The instructor teaching your class has gone through the experience of studying for the exam and knows how to achieve a very high score. Of course, a terrific score doesn't automatically create a great teacher, which is why all of our instructors are also required to demonstrate strong public-speaking and explanatory skills. Most importantly, your teacher was once a student just like you and can give inside advice on how to study and prepare for the exam.
Want to experience the difference first-hand? Just grab a test question and call 202-643-4743 to chat with an instructor.
The Curriculum
Terrific scores don't just come from a few guessing strategies and hints. That's why Griffon Prep courses have more hours than those of most other companies. Our courses delve into the concepts and skills behind the questions. During the course, you'll review basic concepts, study advanced concepts, and work on timing strategies to maximize your score.
How effective are our courses? Find out on our testimonial page.
The Company
People who call us are pleasantly surprised by our candid advice. We are interested in helping you find the best option for you, not in selling you something before you hang up the phone. Our focus on helping students rather than on simply selling classes has contributed to our strong reputation of quality.
What can we do for You?
Feel free to sit in on a sample class. Arrangements can be made by calling our office at 202-643-4743.
If you're a member of a student organization, we'll happily arrange to have one of our professional instructors speak at one of your events, free of charge. To make arrangements, simply call the office or send an e-mail to info10@griffonprep.com.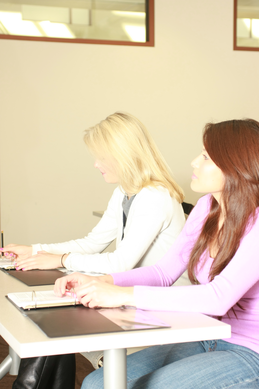 They're honest and they go the extra mile for you. I came in thinking I needed 20 hours of tutoring, and after taking a diagnostic, the owner himself (Jeff) told me that I definitely didn't need that much time. At their own loss, he recommended a much smaller and cheaper package for me. -- Amira V. (excerpt from yelp.com)